In recent years, society has seen a growing awareness of the importance of mental health and well-being. The stigma surrounding mental health issues is gradually diminishing, and people are seeking help more openly than ever before. Alongside this shift, there has been a noteworthy partnership emerging between the church and mental health organizations. This collaboration signifies a powerful force for good, as it combines the strengths of faith-based support and professional mental health services to address the diverse needs of individuals facing mental health challenges.
The focus of this website is to look at the intersection of the Church and mental health. Our hope has always been to see how the Church can come to love, support, evangelize, encourage, empower, and equip those who struggle with mental illness, their families, and their communities to become part of the family of God and find a deeper, richer love for God. Likewise, my hope of mental health agencies and individuals to partner and integrate with the Church for the sake of the client and the community is vital, and we believe part of the expectation of the professional.
Hope for Mental Health Community
We have highlighted many resources on this, but one resource at the top is Kay Warren's initiative Hope for Mental Health Community. The page has numerous videos from speakers as well as the Hope for Mental Health Community Starter Kit that details what your church can do to start your own small group at your church that has a focus on serving those with mental illness.
Within the document, it makes a push for the Church to work alongside mental health professionals in a well-designed illustration below. It highlights that when there is a need for a higher level of care like inpatient treatment, the Church's role becomes smaller (do not read non-existent) and when the person is in a place of health, sobriety, and wellness, they can move to a place of volunteering, leadership, and managing their life.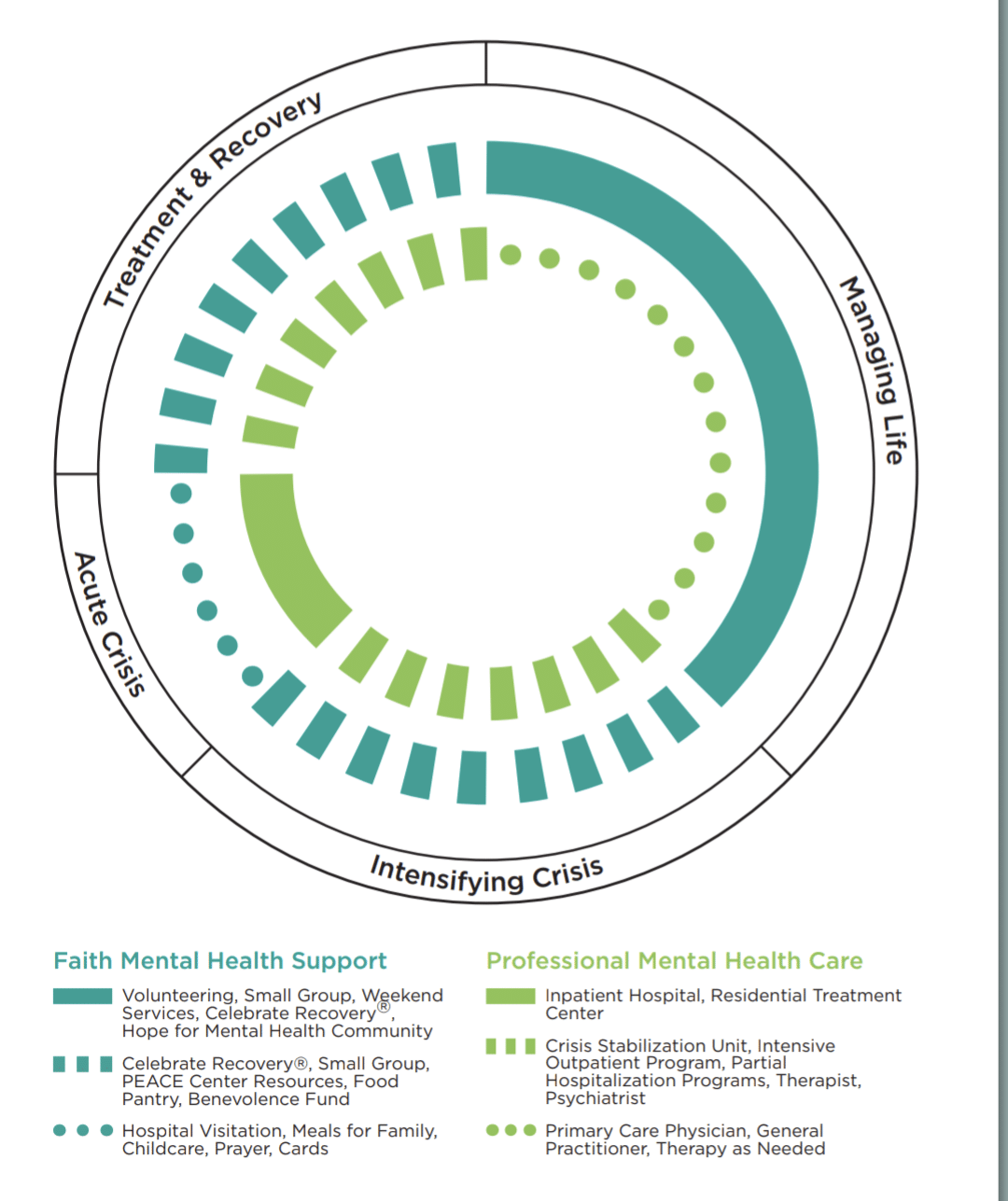 As a professional who volunteers within the Church, this feels like a holistic solution that utilizes the strengths of the person in a model with consistent and intentional engagement for the individual. The holistic partnership of mental health and Christianity is not about quick fixes or one-size-fits-all solutions. It's a journey toward wholeness and well-being. Just as physical health requires ongoing attention, so does mental and spiritual health. This partnership encourages individuals to embrace their struggles as part of their journey, with faith as their anchor and mental health as their compass.
Conclusion
I hope this illustration better identifies this integration of mental health and the Church. This holistic partnership of mental health and Christianity represents a powerful approach to addressing the complexities of human existence. By recognizing the interconnectedness of mental, emotional, and spiritual well-being, individuals can find hope and healing in the face of mental health challenges. It is a journey that invites compassion, community, and a deepening of one's faith, ultimately leading to a more balanced and fulfilling life. In this partnership, individuals can discover that the path to wholeness is not a solitary one but a shared, transformative experience.