Editors Note: HHS The Partnership Center reached out with some clarification on other activities that are shared below.
This past week, I got the opportunity to be invited to attend the US Department of Health and Human Services' (HHS) The Partnership Center conference in Washington DC. It's an annual conference to promote a conversation about faith and mental health across the nation. Christianity was fully represented, but there were also representation of Jews and Muslims.
Below, I want to share some of the thoughts of what I heard from Christian leaders and some quotes that I feel are important to the message of integrating mental health within the Church.
Quotes
Here are a couple of quotes from the conference that I thought were pretty powerful. K unfortunately do not have names associated to the quotes, but I hope they ring true for you: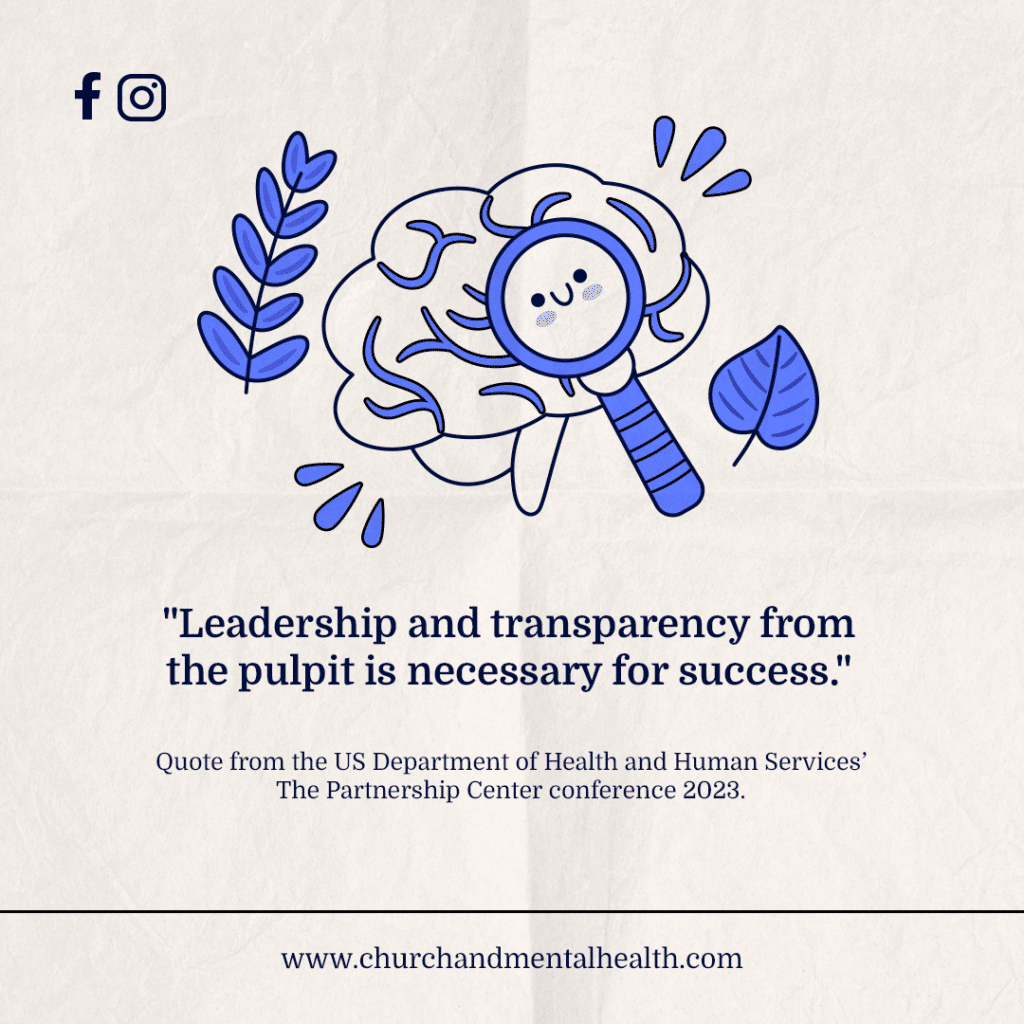 Takeaways and Critiques
Here are my key points I heard from the different panels I participated that I want the Church to hear. I also offer critiques as a way of the Church stepping up to leading the conversation, not as criticism of HHS or their event, but that we can do more.
Future Leadership
It is interesting that there is no presence of Christian higher education present. If we want change, we impact the community as well as change the upcoming leaders. I'd love to see representation from Biola University, Liberty University, Denver Seminary, and Dallas Theological Seminary that are raising up pastors and also have mental health degrees.
Diverse Representation
The Partnership Center supports all faith traditions, so we saw representation from Jewish, Islamic, and Christian faith traditions. It was great to see many different races represented as well as not only religious leaders, but also clinical, academic, and people with lived experience. There was also a strong emphasis on men's mental health that tends to not be discussed in society and a whole panel of under 25 to teach the rest of the room.
Impressed By Others
I think one of the most impressive works happening was not by the Christian faith, but the Muslim faith who has reached 80% of all American mosques to have a formal implementation of suicide prevention. Further, they expect in the next five years that every mosque have some kind of suicide prevention program setup to serve their community. The Jewish sects in Chicago have collaborated with a Jewish counseling ministry to offer free counseling to all Jews at the investment of the Jewish synagogues which partner and support each other for the good of the community. I am driven by this to see more churches step up to the plate to do more.
The Partnership Center's YouTube Channel
The Partnership Center has a bunch of resources they made specifically for faith communities. We've share previously their guide for church leaders but they recently made videos about the new 988 service for all faith communities and are releasing specific community videos now. Go subscribe to them here: https://youtube.com/@HHSPartnershipCenter
Note From HHS The Partnership Center
We received a follow up email from Ben O'Dell, Management Analyst at the US Department of Health and Human Services to fill in some of the missing pieces:
On August 1, 2023, the HHS Center for Faith-based and Neighborhood Partnerships and the Substance Abuse and Mental Health Services Administration convened leaders for a learning collaborative of theological seminaries and education institutions that prepare future faith leaders.  The meeting brought together diverse leaders from multiple faith traditions and programs training religious leaders and future religious leaders to discuss how these training institutions can better address the mental health and well-being of their future leaders as well as for the congregations they will be serving. SAMHSA will use the discussion from the meeting to produce a paper summarizing knowledge gained and promising practices that will be made available to the field to encourage an increased focus on mental health.