The worries of coronavirus have certainly rocked how we live day-to-day. The media and Facebook communities are a buzz about those who will recover from being infected, financial rebound after being unemployed for so long, and miss out on life events like graduation.
But in the mental health field we know there are so many other issues this pandemic will have long lasting concerns with, including mental illness, relapse with substance misuse, and what we will talk about here abuse. In response to these concerns with hidden issues that will creep in, we want to educate pastors in what to look in case congregation members need more support.
The Hidden Violence of Abuse
Today we are going to talk about abuse, and within that domestic violence. Domestic violence is a pattern of behaviors used by one partner to maintain power and control over another partner in an intimate relationship. This is typically cast as a man abusing a woman but can go the opposite way.
The photo below is a great understanding of what domestic violence looks like, that comes from the National Domestic Violence Hotline.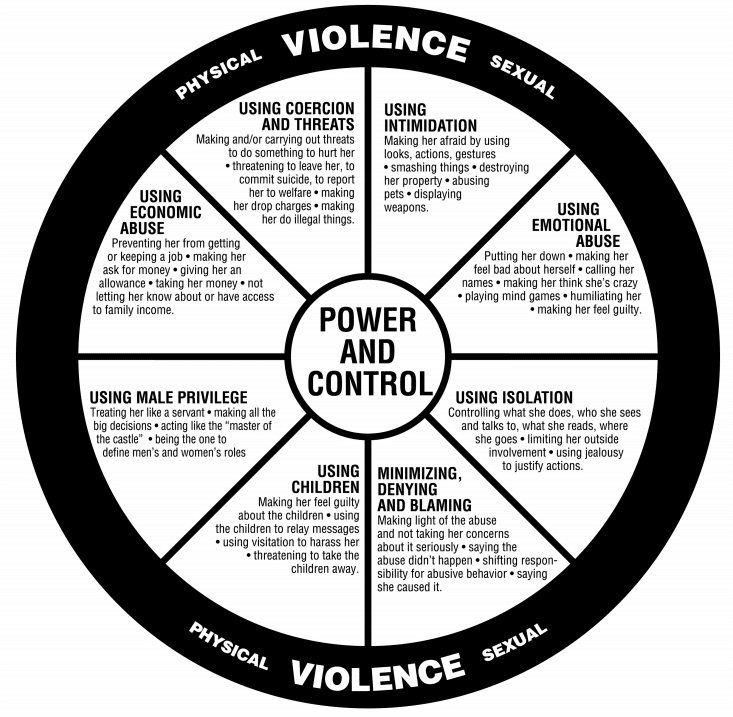 You can absolutely be arrested not only by hitting someone, but physically threaten them, emotionally abuse them, or repeatedly control them through coercion including through their mental illness diagnosis, finances, and even spiritually. Ultimately, when you cross the line of power and control towards your intimate relationship, you may be moving towards domestic violence.
How To Respond
Pastors, look at these concerns. Understand them. Partner with a local domestic violence shelter to educate your staff. Ask a Christian counselor to come in and help find ways to connect people to these resources. And understand that it is not easy.+
Be Supportive, Listen
Let them know that the abuse is not their fault, they are not alone, and you will help them get support. It may be difficult for them to talk about the abuse, so do not push them, but let them know you are available to help whenever they may need it. What they need most is someone who will believe and listen.
Stay The Course, Be Non-Judgmental
Sometimes, in spite of your intervention, domestic violence will continue. Other times, the victim, in order to find homeostasis or "going back to normal," even if normal is being abused, is preferred. It gets messy and you need to commit for the long haul.
Get Them Involved and Active
Support is critical and the more they feel supported by people who care for them, the easier it will be for them to take the steps necessary to get and stay safe away from their abusive partner. There is probably support groups, domestic violence shelters, and hotline numbers in your community to have them find healing. Many times there are issues of childcare that can be part of the abuse and so the victim may feel stuck without good childcare or activities the victim can do with their family. Be creative, connect them with elders or a disciplier, and connect them to counseling.
Help them develop a safety plan, but remember that you cannot 'rescue' them
Help them create a safety plan for wherever they are in their relationship — whether they're choosing to stay, preparing to leave, or have already left. And remember, they are the one who has to make the decisions about what they want to do. It's important for you to support them no matter what they decide, and help them find a way to safety and peace.
What resources do you find out there are great for pastors and counselors to have with regards to preventing domestic violence?