Last month, I got to sit down and talk with Daniel Whitehead, CEO of Sanctuary Mental Health Ministries and hear the history and heart of what is happening at Sanctuary Mental Health Ministries. I already knew about their main product is the Sanctuary Course, but found they were originally created as a response to the original founder's husband committing suicide and they found a significant lack of resources for Christians to better understand and engage in mental health education and resources. Thus Sanctuary Mental Health Ministries was born.
The purpose of this Christian nonprofit is different from other Christian group curriculum like Fresh Hope or Grace Alliance which are designed to integrate mental health and faith. Instead, they want to start conversations with people who may not understand mental health or professionals and family of those who have lived experiences who want to introduce the idea to their church. It's the beginning conversation to start the journey of having churches championing this cause.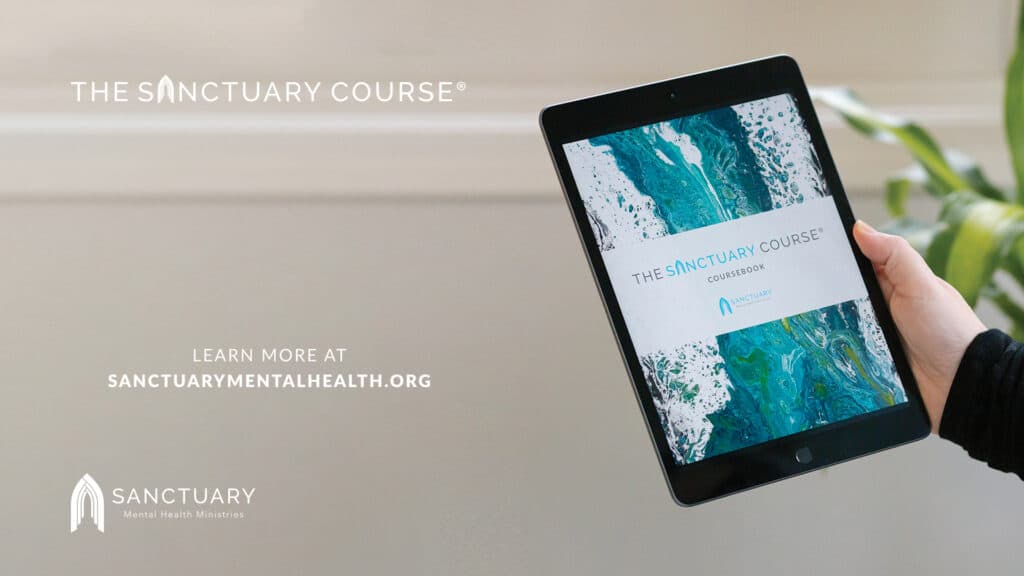 What is the Sanctuary Course? It's a free eight-part study guide for small groups that uses films, coursebook reading, and discussion guides (with art reflections and spiritual practices) to raise awareness, start conversations, and reduce stigma about mental health. If you haven't seen it, we even took a lot of inspiration from it in creating our Church Mental Health Wellness curriculum we are developing. The audience includes:
People with questions about mental health
Mental health professionals with a wealth of knowledge to share
Leaders who want to engage their community in mental health conversations
People supporting loved ones with mental health problems
People living with mental health problems
Here's a video they put together about the course:
When a resource has such specific focus and nail it in such a profound way, I can't help but want to share it. Daniel Whitehead wanted to make sure it was understood, they want to be present for helping start the conversations, which in and of itself is hard within the Christian community. Having empathy for something you do not understand can be next to impossible and that is where the Sanctuary Course starts. It has the stories of people who have struggled with insights from mental health professionals and church leaders alike.
Other nonprofits like Grace Alliance will serve well with what they do, but the very specific need to help others understand why a conversation on faith and mental health is there and Sanctuary Mental Health Ministry nails it. If your church has not yet started the conversation, you need to download this. If you feel like you and your leadership get it, you may still want to go through it when you bring on new elders or deacons, help congregation members understand better, or want to walk alongside other community partners or churches to grow in this specific area. We give our absolute support of it.