Holly Oxhandler is not only a Christian who understands mental health, but has her own Christian mental health podcast that she co-hosts at CXMH Podcast and an associate professor and associate dean for research and faculty development at Baylor University in social work. If you follow her online or read any of her other material, you will find she is a caring person not only for the individual who is struggling from mental health, but those that have made a choice to serve people with mental health problems, whether professional or otherwise.
This book The Soul of the Helper follows this look at wanting to help individuals who are helping people with mental health or disability problems. For the person who wants the professional or clinical understanding, you will get that. For the person who needs to find some rest within a book, you will also find this. I feel there was a fair balance between the two that was inviting and encouraging.
The Good
This topic is sorely needed. We throw volunteers into groups and young pastors into ministry until they fizzle out and then look for the next one. We cheer on parents of families who may have a hidden or developmental disability, but only offer short term resources and personal support and leave them high-and-dry after only a few months or a year. May is a great time for discussing mental health within the Church, but we do not continue the conversation and miss out on supporting individuals who may be victims of domestic violence, special needs ministry and the Buddy Programs that go with it, and so much more.
Holly looks to bridge that gap to cheer on the helper in a way many in ministry tend to do, by tending to the soul. God created us for connection with Him and through this with each other. May we take care of those who take care of others.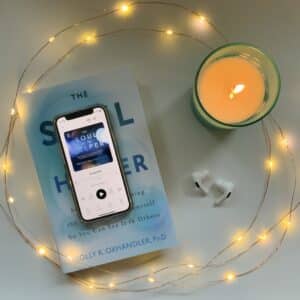 The Break From Conservative Christianity
I respect Holly in her work, putting her own personal story out there, and her desire to further the Church in their pursuit to help those with mental illness. Yet, while I read the book, I found myself wondering, will pastors and conservative Christians be able to read this and glean from it? My guess is that Christian counselors, may be able to see the clinical work being shared through the text and appropriately apply it with professional application.
Lay Christians or pastors who are still very conservatives may find it difficult to make the transition of "counsel-ese" that non-Christians in the same way struggle when pastors speak Christian-ese. Namaste has negative connotations and while the description is an easy connection for counselors who may be versed in Dialectic Behavioral Therapy, Person-Center, or Attachment theory will appreciate, those who are not trained may see it as simply "inviting pluralism" as I saw one commenter online make.
Whether you are a pastor in charge of volunteers, a person on the compassion ministry, or a Christian counselor, this is a must read to support your local Christian leaders looking to give back to their congregation and community. I give this book a 4 out of 5 stars.